Photo 2
GLYN KIRK/AFP/GETTY IMAGES
Britain's Martine Wright (No. 7) celebrates a point with teammate Victoria Widdup (left) during their women's sitting volleyball match against Ukraine during the London 2012 Paralympic Games at the ExCel Centre on Aug. 31.
Getting into the spirit of the Paralympic Games, Boris Johnson has tried his hand at sitting volleyball with teammate Barbara Windsor. It is probably time to update the 'Boris Johnson Looking Silly' gallery. The Mayor of London, Boris Johnson and celebrity actress Barbara Windsor get the chance to try sitting volleyball on the main stage. Images found on huffington post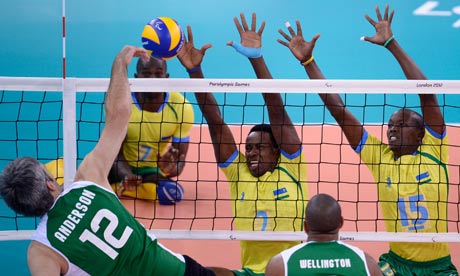 GB Paralympics Training Camp, Bath University
Womens Sitting Volleyball Action
Picture taken by David Poultney for GOC
Further photos are available on our Flickr site.
Sitting Volleyball
Emma Wiggs of Great Britain is blocked by Larysa Ponomarenko of Ukraine during the Women's Sitting Volleyball Preliminaries Pool A match between Great Britain and Ukraine on day 2 of the London 2012 Paralympic Games at ExCel on August 31, 2012 in London, England. (Photo by Dennis Grombkowski/Getty Images)